General Engineering Manager with software, engineering and technology experience in fast-moving customer-focused businesses.
System Architect and Guru for large and complex systems with a high software control element, some nearing twenty years in use
Drives cross-functional, high-performance teams of engineers and scientists, producing efficient solutions, designs and teamwork, through an accessible and supportive management style.
Reputation for comprehensive analysis, speed of decision and consistent design vision.

The majority of my work has been in two areas:

The System Design and development of embedded real-time control systems for complex equipment, from Petrol Delivery and Warehouse control through to Semiconductor Processing Equipment and Factory Automation.
The Engineering Management and Directing of Semiconductor Production Equipment research and development, including responsibilities for Technology (Physics and Materials), Mechanical Throughput, Reliability and Field Performance Programmes, Safety and Ergonomic compliance, and Wafer Processing accuracy, integrity and repeatability.
I can understand large systems very quickly and thoroughly, which has taken me into the overall system design 'guru' position in most projects I joined, from my early consultant days through to today. This has allowed me to make quick but effective decisions when necessary, or provide deep, extensive specifications where more appropriate.
I won the 1994 Dan Maydan Award for work on the P5000 Control system, that recognised "significant and longstanding commercial product contributions" within Applied Materials. Dan Maydan was President and CEO.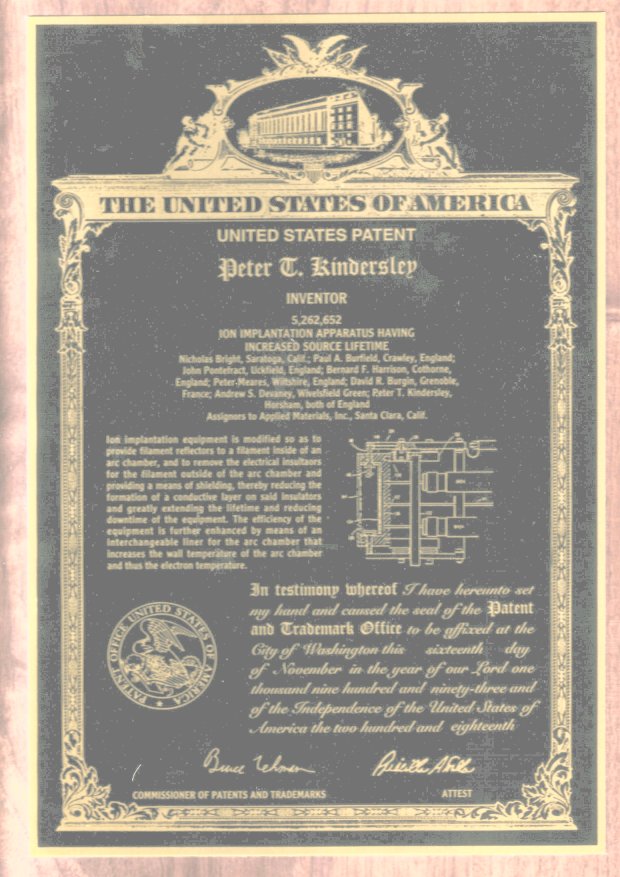 Patents:
6,525,327 Ion implanter and beam stop therefor
5,981,961 Apparatus and method for improved scanning efficiency in an ion implanter
5,886,355 Ion implantation apparatus having increased source lifetime
5,554,852 Ion implantation having increased source lifetime
5,517,077 Ion implantation having increased source lifetime
5,262,652 Ion implantation apparatus having increased source lifetime
Degree:
Magdalene College, Cambridge, BA Computer Science (1st Class) (Following 1st Class Part 1 in Engineering)
Skills:
Expert in Assembler (Various), Pascal, Real-time operating systems (MTOS, VRTX etc.), C, C++, MS Project, Word, Excel and PowerPoint.
Born Sept 1956. Married, with two children aged 19 and 16. Interests include garden and DIY projects, squash, badminton, skiing and collecting classic radio humour.